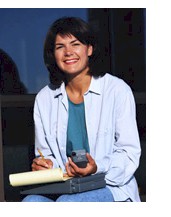 H

ow
Nancy Got
Her Small Business
Moving Again by
Filling a Management Void
About two months ago, Nancy was having a drink with the president of a Fortune 1000 company and came home quite upset.
For two hours she had listened to tales of the great things his company was doing in the marketplace to increase product awareness. He had also carried on at length about the wonderful ways his CFO suggested of taking advantage of an inconsistent economy. By the end of the evening she realized just how wide the gap has become between big companies that can afford to hire top-notch talent and smaller firms that can't. Resolving to find a way for her small business to get access to the type of talent usually employed by top firms, she did some homework and found that it is possible for small companies to hire high-level executives - provided that there is a willingness to hire them on a part-time basis.
The part-time executive provides a combined continuity and expertise that is difficult to duplicate for the price being paid. Bringing skills that specifically suit the business needs, and usually with a minimal learning curve, the part-time executive works for a set period each month (usually a couple of days on-site) and is available for limitless discussions by phone or email. The individual is paid a set monthly retainer. Staff and senior management have a rare opportunity to learn from someone who has a wealth of professional knowledge and is "out there" learning from other professionals.
So is working with a part-time executive a better way of operating than other avenues available to a business? Not necessarily. Frequently a company's senior management has the expertise to function at the high level in the marketing, financial or operations area. In that case it probably makes more sense to bring a consultant in to deal with specific issues.
The part-time executive is an idea whose time has come! Before you do without or write that next "Help Wanted" ad, consider bringing in a part-time executive instead. Like our friend Nancy, you'll find your business growing much faster than you expected and with considerably lower overhead.
Originally published in Productivity Report, 2002